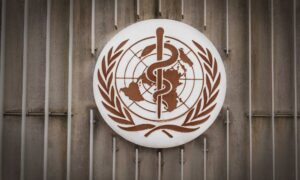 In a webinar held on April 20 by the Committee on the Present Danger: China (CPDC), panelists discussed Beijing's influence in international organizations, as well as its role in subverting U.S. sovereignty and building a new world order with Chinese Communist Party (CCP) characteristics.
The panelists include Pam Pryor, senior bureau official for International Organizational Affairs—a role overseeing U.S. engagement in the United Nations and other international organizations—during the Trump administration; Jonathan Emord, former Federal Communications Commission attorney; Reggie Littlejohn, president of Women's Rights Without Frontiers and co-chair of the Stop Vaccine Passports Task Force; and Alex Newman, an award-winning international journalist and contributor to The Epoch Times and other diverse publications.
We will replay the webinar at 3:15 p.m. ET on April 22.